LAKEWOOD MUSIC ACADEMY
NEED RENTAL INFORMATION? CLICK HERE
Private Lessons on piano, voice, guitar, ukulele, strings, brass, woodwinds and drums.
Are we the right music school for you?
CONSIDER SEVEN BENEFITS OF BECOMING A LAKEWOOD MUSIC ACADEMY STUDENT:
1. We offer lessons starting at 18 month through adults
Music FunTime classes are for ages 18 months – 7 years. Make a fun connection between math & science through music with interactive classes where kids learn to read and notate music, develop skills using music crafts and games, and performing by singing and keeping rhythm with basic instruments.
Suzuki classes are available by our certified instructors.
Along with that we offer lessons beginning at age 5 for drums, guitar, ukulele, bass guitar, piano, voice, violin, viola, cello, flute, clarinet, trumpet, trombone, low brass.
2. Qualified teaching faculty with degrees in music or commesurate experience who will teach you the songs you want to learn.
We have 14 music teachers, all with either University training or professional performance experience. Our music teachers are dedicated to learning about your personal musical goals and helping you to achieve them. In addition to their teaching credentials, our teachers have warm personalities, are extremely friendly and dedicated to teaching you the style of music that you want to learn.
3. Discounts and Loyalty Spending Points! 10% discount key tag!
As a current student you get 10% discount on all retail merchandise. You earn $1/$10 spent on merchandise. Twice a year you can spend your loyalty points towards products in the store.
4. The widest range of lesson times available to fit your busy schedule.
9:00 a.m. – 9:00 p.m. Monday – Thursday • 9:00 am – 7:00 pm Friday • 9:00 a.m. – 4:00 p.m. on Saturday • 12:00 p.m. – 6:00 p.m. on Sunday.
5. Free, all inclusive, "optional" recitals so that your family & friends can share in your musical journey.
Every May and December, our students have the option of performing in our recitals. Students are not required to perform, but many choose to. Parents never have to pay admission or any related fees for these recitals.
6. Free workshops inside our Creative Music Adventures (C.M.A.) Program!
All current students have access to any of the non-recurring C.M.A workshops offered every month. The community pays $15-$30 for access to these workshops.
7. . Trophies, certificates and award wristbands Celebrating Student Achievement • The Musical Ladder System®
We are the ONLY music school in the Greater Cleveland area that gives their students the opportunity to earn special color wristband bracelets (kids and teens love them!), trophies AND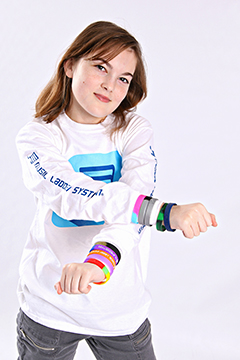 certificates for passing musical tests. Do other schools offer trophies and certificates? A few. But none of them inspire their students with smiling faces (see pictures to the right) by giving them full color, really cool "Musical Ladder" wristbands that they can show off to their friends. The Musical Ladder is our unique method of music education that you can only get here.
More importantly when our students have a test coming up, they practice more, their parents are proud, their teachers are proud, and everybody wins. You can only get the Musical Ladder here. We also specialize in music lessons for adults.
Request more info or call 216-228-4885 to reserve your spot!


Preschool Classes
Ages 18m to 7yrs
Lakewood's Marrell Music Lesson Center gets you really jazzed about playing an instrument and experiencing music in so many ways! Kids love building self-confidence and self-esteem as they develop their musical talent…a talent only an individual can do for him or herself. We offer you the opportunity to have your child start at a young age, developing aspects of their brain that connect Math & Science through music doing fun music craft workshops, playing simple instruments and rhythms, reading music notation and more.
As your child grows and plays an instrument, think about how you will feel thrilled to hear your kids play their instruments! Why is that? Because only a tiny number of people GLOBALLY, play a musical instrument. Out of millions of people in the world, musicians are seen as something really special. Marrell Music to what is now Lakewood Music Academy, has offered musical opportunities for over 10 years with that in mind. Sharon Marrell began in 2004 offering individual lessons out of her home to those seeking to learn an instrument. In 2008 at the beginning of the recession she chose to open a store front, share her students with other teachers and began a community based outreach to musicians in the Lakewood area that continues today as Lakewood Music Academy. It'a a fact that Kids love watching their parents play an instrument. When you share music, it bonds families. And what keeps a family together can make a huge difference for creating happy memories.
Ready to start your child on a fun filled music adventure with either piano lessons, drum lessons, guitar lessons, voice lessons or violin lessons? Call now for more information and class schedules.
---


LAKEWOOD MUSIC ACADEMY #1
Same Day Service on simple repairs
Available for Woodwind, Brass, Orchestral Strings, and Guitar
Instrument repairs are done in a timely manner. 
Minor repairs: SAME or NEXT DAY
Non-extensive repairs: 2-3 days on most services (dent removal; Ultrasonic Cleaning)
Extensive repairs: 5-7 days 
Located at Bunts and Madison in Lakewood OHIO
Lesson Hours 
M-TH 9am – 9pm
Friday 9am – 7pm
Saturday 9am-4pm
Sunday Noon-6pm
 Retail Store Hours 
Mon.      11 am – 6:30 pm
Tues.-Fri.   11 am – 7 pm
 Saturday        10 am – 4 pm
Sunday             CLOSED